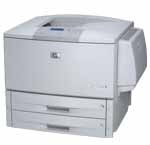 TROY MICR 9050 Secure Printer
When processing critical and confidential data in a multi user environment, the TROY MICR 9050 Secure Printer provides the additional safeguards that protect against the increased security risk of fraud and misuse.
Accessibility and authorization to the TROY MICR 9050 Secure Printer is password protected and data file encryption/decryption shields against alteration or diversion. Audit trails, customized to capture specific check processing data, provide post processing validation of the printed file accuracy and integrity. For distributed or open office check printing applications, your security solution is the TROY MICR 9050 Secure Printer.
Versatile paper handling features support management of securely switching between check printing and general office printing. Electronic paper tray remapping and lock out tools are standard, making the MICR 9050 Secure ideal for printing from multiple accounts. The printer's two built-in 500-sheet paper trays are adjustable for standard and nonstandard paper sizes. And with full support of HP LaserJet 9050 options and accessories, the printer can be fully configured to meet high production demands and to seamlessly combine with other applications.
Delivered with a TROY MICR Toner Cartridge specifically formulated for the TROY MICR 9050 Secure printer, check processing performance that exceeds ANSI, ABA and CBA standards is guaranteed.
---

Built-in Secure Encryption and Decryption

Data security is critical in a distributed printing application. TROY's encryption/decryption technology "unlocks" and prints the data only when it is received at the TROY printer.
¡@
---
Model Numbers
¡@
TROY MICR 9050 Secure Printer (01-00548-201)
2 trays, no locks
TROY MICR 9050 Secure Printer (01-00548-221)
2 trays with locks