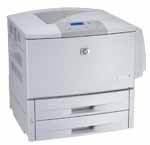 TROY MICR 9050 Printer
The TROY MICR 9050 provides additional data and document security to check printing applications in work areas which are already secure.
Additional fraud deterrent offerings are: User authorization to print confidential data files, ability to direct confidential data transmissions to specific paper trays, intelligence that prevents printing MICR data with non MICR toner and protection from duplicate check printing with TROY¡¦s disable jam recovery function.
With its increased security and high performance input and output accessories, the TROY MICR 9050 is ideal for Accounts Payable, Exception and Distributed check printing in mid to high level production printing environments. Achieve precise MICR line placement, key to quality check processing by all financial institutions, with TROY ExPT™ positioning technology. Built-in MICR toner sensors and a toner-low response feature also help guarantee optimal quality.
Delivered with a TROY MICR Toner Cartridge specifically formulated for the TROY MICR 9050 printer, check processing performance that exceeds ANSI, ABA and CBA standards is guaranteed.
---
Model Numbers
¡@
TROY MICR 9050 Printer (01-00547-201)
2 trays, no locks
TROY MICR 9050 Printer (01-00547-221)
2 trays with locks
¡@