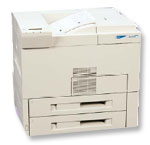 TROY MICR 8150 Secure Ex Printer
MICR applications demand great security, and TROY MICR Secure Ex Printers offer the best in the world. The data stream is encrypted. Access to MICR is password protected, as is access to the printer¡¦s control panel itself. A unique three-position MICR key lock controls access to the printer, and locks on input and output trays protect security stock and finished checks. Automatic reprint after a jam has been disabled.
TROY¡¦s enhanced auditing tool allows administrators to capture and audit critical data such as the MICR line, payee name, amount, issue date, and authorized user name. And if anything goes wrong in the printing process¡Xthe data file is fraudulently diverted or an improper MICR font is downloaded¡X a user-defined message, such as "VOID" appears across the face of the check. Built-in MICR toner sensors and a toner-low response feature also help guarantee optimal quality.
TROY Exact Positioning Technology (ExPT™) allows the operator to precisely position the MICR line and document image¡Xeliminating the need for making programming changes to existing applications, and ensuring MICR readability. The result is output quality that cannot be equaled.
The 8150 features two 500-sheet locking paper trays, making it ideal for printing from multiple accounts or switching between check printing and general office printing. 1200-dpi resolution and 11" x 17" output make it perfect for general office printing of all kinds.
At 32 pages per minute, TROY¡¦s MICR 8150 Secure Ex Printer is a high speed, high capacity financial document printer ideal for large-volume applications or those with a time-critical print window. Capable of printing up to 2,000 documents per hour, the MICR 8150 Secure Ex features a duty cycle of 150,000 pages per month. Designed for network attachment, the printer comes standard with three network interface slots.
Delivered with a TROY MICR Toner Cartridge specifically formulated for the TROY MICR 8150 Secure Ex Printer, check processing performance that exceeds ANSI, ABA and CBA standards is guaranteed.
---
ExPT™ Exact Positioning Technology

A MICR line out of alignment is one cause of rejected checks, a multi-million dollar problem for banks and companies. ExPT allows users to precisely adjust the MICR line without affecting the data file
---
Model Numbers
TROY MICR 8150 Secure Ex Printer 01-00390-002
Standard Configuration: 32ppm, 16MB RAM, (2) 500-Sheet Trays, PostScript Level 2. Includes MICR toner sensors, MICR activation codes, keylocks and paper tray locks. Default Startup: MICR On with No Time-Out. TROY's MICR 8100 Printers come with a 1-year Next Day Service Warranty.