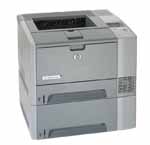 TROY MICR 2420 Secure Ex Printer

For MICR applications demanding the highest operational, document and communication security, choose the exclusive security features of the MICR 2420 Secure Ex.
Reduce the risk of check stock theft and printer misuse with its 3-position printer key lock and paper tray locks. Providing state of the art deterrence of fraudulent check alteration, our TROYmark™ intelligent anti-tampering technology produces a user defined watermark, printed diagonally across each check. Prevent the routing of sensitive data to an insecure unauthorized printer with our Auto-Protect Font feature that prints ˇ§voidˇ¨ when files are incorrectly routed to a non-MICR printer.
Delivered with a TROY MICR Toner Cartridge specifically formulated for the TROY MICR 2420 Secure Ex Printer, check processing performance that exceeds ANSI, ABA and CBA standards is guaranteed.
---
Exclusive TROYmark™

Exclusive TROYmark™ Intelligent Anti-tampering Technology TROYmark™ is a watermark of userdefined variable data, printed diagonally across each check. It provides state-of-the-art deterrence of fraudulent check alteration.

---


Model Numbers

TROY MICR 2420d Secure Ex Printer (01-00525-111)
1 tray with lock


TROY MICR 2420dt Secure Ex Printer (01-00525-221)
2 trays with locks

Return to TROY products

ˇ@